Day 1: The Hero's Journey
A Look at the Hero's Journey; The Power of Myth with Joseph Campbell; Song of the Open Road by Walt Whitman; Everyday Life as a Heroic Journey with Jean Houston
Welcome to the Hero's Journey! Congratulations on Day 1!!!!
We are so glad you are here! One of the toughest parts of the Hero's Journey is to BEGIN.
How many obstacles were in your way in the last few hours, days, weeks, months, YEARS? Yet here you are, honoring your deepest intentions to shed limitations and cultivate something higher, wider, deeper, greater in your life. Breathe the clean sweet air of beginning anew.
Make your first juice of each day a Green Vegetable Juice (GVJ), which will have an alkalinizing effect on your body and help get your bowels moving. Also, we are not necessarily inclined to have Green Vegetable Juice – so making your first juice of the day a Green Juice will get one out of the way until your tastes have realigned to GVJ. Many Juice Feasters have commented that GVJ begins to taste like milk "from the earth" after a few days or so… which is interesting, particularly if GVJ looks like Oscar the Grouch in a glass to you right now!
Sample Daily Juice Feasting Schedule:
This is important. The GREATEST PITFALL of Juice Feasting is not drinking enough juice. And with our busy schedules, the tendency is to forget to drink our juices on a Juice Feast. So just as a reminder, remember:
One Quart each, made fresh, drank approx. 2-3 hours apart, in this order:
8:00 am Green Vegetable Juice
10:30 am Fruit Juice (or Green Vegetable Juice)
1:00 pm Fruit Juice (or Green Vegetable Juice)
3:30 pm Green Vegetable Juice
Drink these juices in about 5-15 minutes. Don't sip your juice all day long – if you do, it is always there and you will get tired of it. Drink your juice like a meal, and then you will be hungry and ready for your next juice in less than 3 hours time.
Finally, if you get home from work and are hungry, please make yourself another quart of juice! This is a Juice Feast of abundance!
Remember, you are taking care of all your caloric needs for the day, including all the fat, protein, and carbohydrates that you need. This is a Juice Feast! Therefore, you will drink approximately 1 gallon of fresh nutrient-dense juice each day! Make certain that you have a drink every 2-3 hours–any longer and your body will tell you it wants more food through a return of cravings, which are not conducive to achieving your goals for yourself on this Feast. If you are unsure about any aspects of the Juice Feast, please go back to the Introduction to Juice Feasting by clicking here.
Keeping the Flow
Juice Feasting is designed to get things unstuck: toxins, health challenges, eating patterns… lots of things. While you are in a cleansing physiology as powerful as a Juice Feast, it is paramount that you move your bowels. On the Juice Feast, this is best done with ENEMAS daily for the first 10-14 Days, and every other day or every third day thereafter as needed.
Also, you can use Intestinal Movement Formula at the beginning of each day, to prompt the peristaltic wave and aid the bowel in elimination, as needed. This is best used if you have only 1 bowel movement a day. If you usually have 2-3 BMs a day, don't bother with IMF or Cascara.
Moving the uneliminated waste matter from your digestive system is of great importance on this program, so we will maintain a conscious awareness of what you are releasing through your bowel. Intestinal Drawing Formula, should you choose to use it, will grab onto what is being released and make sure that it is not reintroduced into your system. Again, this is of best use if you have only 1 BM a day on average and want to really kickstart the Juice Feast.
On balance, Intestinal Movement Formula is for the first 30 days of a Juice Feast, and no more, unless serious constipation or overweight/obesity is in play. Please consult your health professional about the use of IMF. If you cannot access IMF, you can use Cascara Sagrada, 1 capsule per day, to help your body eliminate more efficiently in place of the IMF.
The file for Cascara Sagrada is included in the upcoming information for Day 3: Elimination Aides, which you can access now.
The Juice Feasting Nutrition Course: A Self-Empowerment Program
The Juice Feasting Nutrition Course is a self-empowerment, self-reliance program, and we want to discuss with you what you are reading, so that we know you are on track with the intellectual side of things. You have a sharp mind and are going to relish the exciting information that is now coming your way.
The downloads for you each Day of the Course are motivation to dive into the information, and to relish the opportunity that you are allowing yourself to heal and significantly upgrade your life. To kick it off, we have made Day 1 of Juice Feasting about The Hero's Journey.
==> Take a Photo of Yourself NOW!!!! <==
It will be so important to you and those around you as you look back on your progress! And if you are thinking, "No, I look [awful]," don't worry… in fact, rejoice. The best "before" photos are those that provide the most contrast to our after photos. So snap some photos. You will come to love them later.
Daily Movement: I Am Active
Juice Feasting is designed to get you UNSTUCK. Stagnation or Stuckness is the 1st Stage of Disease. Most of our difficulties in life have an element of stuckness, and this is never more true than with health challenges. The Hero must get unstuck, and move forth.
You will find the I Am Active section at the bottom of very single Day of the Juice Feasting Program, with videos, information, inspiration, and means to get moving. For Days 1-30, we will be engaging the wonderful series, Yoga Camp with Adriene. Check out the Yoga Camp Orientation video at right, and Day 1 of Yoga Camp in the I Am Active section of the Juice Feasting Program at the bottom of each Day, starting today!
Today's Downloads: The Hero's Journey
The download for you today is part of a writing/study project that I have been working with for many years – the Hero's Journey of stepping away from the disease – causing diet of society, taking up a path to heal what ills the conventional diet has caused us, experiencing our own trials and despairs along the way, and returning to society a new person–one literally reborn in body, mind, and spirit. As experience has shown, any hero's journey takes mettle – takes ganas – determination. Consider what Joseph Campbell, author of The Hero With a Thousand Faces has to say about our path and that of those before us.
The health of our society is at a critical point. "The U.S. Public Health Service revealed the rate of health deterioration of the American people. Out of 100 participating nations in the world, America was the healthiest in 1900. In 1920, we dropped to the second highest nation. During World War II, we went back to number one–that's when sugar and meat were hard to obtain and family vegetable gardens were common. In 1978, we dropped to 79th. In 1980, we were 95th! In 1987, we hit rock bottom – that's number 100 on the list. Yet we are said to be the wealthiest nation in the world. (Cleanse and Purify Thyself, pg 19)."
Our leading cause of death is heart disease – which is completely preventable and reversible through diet, as you will read on Day 43: Heart Disease and Hypertension which discusses Dr. Caldwell B. Esselstyn from the Cleveland Clinic. But it goes on – cancer, diabetes, arthritis, liver disease, acid reflux disease – largely preventable and reversible through diet, as overwhelming research and experience has proven.
Look around at what people eat, and at how we are marketed and programmed to do so–is it any wonder we are so ill? Shifting into a plant-based life-affirming program in an unhealthy food environment takes a hero. Juice cleansing and committing yourself to eliminating the causes of disease—you are a modern hero, have no doubt.

The download on The Hero's Journey that I have put together for you is based on the life work of Joseph Campbell. It is a worksheet to engage in. Print it out and write down your thoughts and experiences.
At what point in the Hero's Journey are you? Where do you see yourself going in the road ahead—the "labyrinth that is thoroughly known by all the heroes that have gone before us."
Keep charting new territory!
Heroes and leaders are made of the actions that you take now.
P.S. The Delicious Questions
Take Note: We would love you to direct your Juice Feasting questions to The Juice Feasting Green Room, so that everyone gets the benefit of your question and the following answer! You can also consult the Master Q&A with David and Katrina Rainoshek for a thorough and seasoned look at the significant questions often asked on a Juice Feast.
See you in The Green Room! Enjoy your Juice! Congratulations on the first day of what may prove to be the most significant thing you have ever done for yourself!
by David Rainoshek, M.A.
Learn more deeply about the Five Stages of the Hero's Journey as described by Joseph Campbell:
1. The Call to Adventure
2. Crossing of the Threshold (Entering the Unknown)
3. Trials and Tribulations of the Journey
4. Attainment of Enlightenment
5. Return of the Hero
The Hero with a Thousand Faces (Commemorative Edition 2004)
by Joseph Campbell
The Classic Book by Joseph Campbell. In .pdf format for you to review. If I were you, I would get the hardcover of this book. It is worth it. I have read this book SO MANY times over the last 20 years. It is a keeper. – David Rainoshek, M.A.
by Walt Whitman
This is one of the enduring classics of poetry in my life. Walt Whitman is a true American mystic, loving, accepting, and celebrating each and all. I return to the poetry of Whitman over and over again, as I have for the last 20 years. Particularly read SONG OF MYSELF and SONG OF THE OPEN ROAD. – David Rainoshek, M.A. This is a .pdf copy for your files.
Through a dialogue conducted with these inward forces through our dreams and through a study of myths, we can learn to know and come to terms with the greater horizon of our own deeper and wiser, inward self. – Joseph Campbell, Myths to Live By
by Joseph Campbell
"I have returned to no other book more often since leaving college than this one, and every time I discover new insight into the human journey. Every generation will find in Hero wisdom for the ages." — Bill Moyers
"In the three decades since I discovered The Hero with a Thousand Faces, it has continued to fascinate and inspire me. Joseph Campbell peers through centuries and shows us that we are all connected by a basic need to hear stories and understand ourselves. As a book, it is wonderful to read; as illumination into the human condition, it is a revelation." — George Lucas
"Campbell's words carry extraordinary weight, not only among scholars but among a wide range of other people who find his search down mythological pathways relevant to their lives today….The book for which he is most famous, The Hero with a Thousand Faces [is] a brilliant examination, through ancient hero myths, of man's eternal struggle for identity." — Time
"In the long run, the most influential book of the twentieth century may turn out to be Joseph Campbell's The Hero with a Thousand Faces." — Christopher Vogler
by Joseph Campbell
Among his many gifts, Joseph Campbell's most impressive was the unique ability to take a contemporary situation, such as the murder and funeral of President John F. Kennedy, and help us understand its impact in the context of ancient mythology. Herein lies the power of The Power of Myth, showing how humans are apt to create and live out the themes of mythology.
Based on a six-part PBS television series hosted by Bill Moyers, this classic is especially compelling because of its engaging question-and-answer format, creating an easy, conversational approach to complicated and esoteric topics. For example, when discussing the mythology of heroes, Campbell and Moyers smoothly segue from the Sumerian sky goddess Inanna to Star Wars' mercenary-turned-hero, Han Solo. Most impressive is Campbell's encyclopedic knowledge of myths, demonstrated in his ability to recall the details and archetypes of almost any story, from any point and history, and translate it into a lesson for spiritual living in the here and now.
by Joseph Campbell
This ninth volume of Campbell's previously unpublished material deftly marries his sweeping grasp of myths with the needs of contemporary people looking for meaning and inspiration. Expert editor and seasoned Campbell authority David Kudler makes the mythic-stature-mythicist come alive again. Fans will recognize Campbell's comforting cadence and intimacy, conveyed by use of the second person and by his masterful storytelling. Campbell realized he was essentially saying the same things over more than two decades.
This volume gives explicit directions for identifying and connecting oneself to a meaningful mythic overview, unbounded by specific cultures or historical facts. Campbell gives adequate coverage to the historical development of myth as it pertains to the individual, especially through the eyes of Jung. The final chapter, a distilled jewel of the hero's journey mono-myth that Campbell made famous, is followed by "Dialogue," several pages of conversation between Campbell and anonymous people, exploring the application of gender differences to the hero's journey.
The man behind the myth is lovingly revealed in this collection of interviews with the late Joseph Campbell. Using Campbell's format for the "hero's journey," editor Phil Cousineau organized these interviews so that they reflect Campbell's own chronological life quest. He begins with "The Call to Adventure," in which Campbell speaks to his fascination with Native American myth as a child, and moves through "The Road of Trials" (his years in college and as a young professor at Sarah Lawrence) and the "Meeting with the Goddess" (referring to meeting his wife of 50 years, the modern dancer Jean Erdman). Since most of the book is written in a question and answer format (with a few excerpts from lectures), much of the text is in Campbell's own words. It is a feast for any fan to hear Campbell speak so personally about his own life while also imparting his usual insight and wisdom on every topic he discusses.
This is one of the enduring classics of poetry in my life. Walt Whitman is a true American mystic, loving, accepting, and celebrating each and all. I return to the poetry of Whitman over and over again, as I have for the last 20 years. Particularly read SONG OF MYSELF and SONG OF THE OPEN ROAD. – David Rainoshek, M.A.
Media, Films, & Documentaries
Joseph Campbell and the Power of Myth is essential viewing for anyone old enough to appreciate its vital teachings. One of the greatest interviews ever recorded, this six-part, six-hour encounter between teacher- mythologist Campbell and student-journalist Bill Moyers (recorded in the two years preceding Campbell's death in 1988) covers a galaxy of topics related to Campbell's central themes: Mythology is humanity's universal method of seeking the transcendental, and "follow your bliss" is the timeless formula for spiritual satisfaction. Campbell himself is the embodiment of these themes, an erudite scholar and quintessential storyteller, recalling a wide spectrum of myths from throughout history (Japanese, Native American, Egyptian, Mayan, and many more) to illustrate humankind's eternal quest to grasp the mysteries of creation. Historical artifacts and illustrations bring these timeless stories to life.
An astute interviewer, Moyers is an acolyte in perfect harmony with Campbell-as- mentor, wording questions with penetrating perfection as their intellectual dance reaches exhilarating heights of meaning and fascination. Moyers also finds the perfect hook for a global audience, examining Campbell's admiration of George Lucas's Star Wars saga as a popular tapestry of ancient myths, and Lucas himself is interviewed in a DVD bonus segment ("I'm not creating a new myth," he says, "but telling old myths in a new way"). Campbell's seemingly endless well of knowledge reaches a simple conclusion: we need myths to survive like we need oxygen to breathe, as a life force with which to understand our existence – past, present, and future.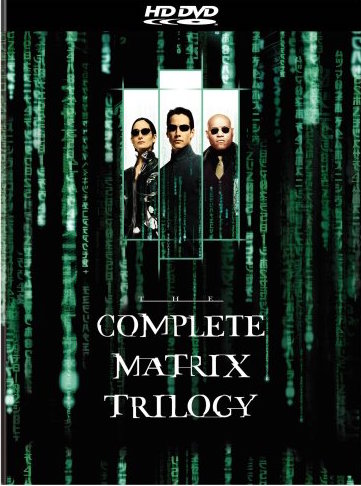 A Postmodern film with all the classic Hero's Journey Stages. The Complete Matrix Trilogy presents the complete adventures of machine battling truth-seekers Neo (Keanu Reeves), Trinity (Cary-Anne Moss) and Morpheus (Lurence Fishburne) in all three of the Wachowski's ground-breaking monumental sci-fi feature films. This collection features all three films in Hi-def and includes exclusive In Movie Experience (IME). These are the ultimate films for the ultimate hi-def format!
Running Time: 403 min.
The Lord of the Rings: The Fellowship of the Ring: As the triumphant start of a trilogy, The Lord of the Rings: The Fellowship of the Ring leaves you begging for more. By necessity, Peter Jackson's ambitious epic compresses J.R.R. Tolkien's classic The Lord of the Rings, but this robust adaptation maintains reverent allegiance to Tolkien's creation, instantly qualifying as one of the greatest fantasy films ever made. At 178 minutes, it's long enough to establish the myriad inhabitants of Middle-earth, the legendary Rings of Power, and the fellowship of hobbits, elves, dwarves, and humans–led by the wizard Gandalf (Ian McKellen) and the brave hobbit Frodo (Elijah Wood)–who must battle terrifying forces of evil on their perilous journey to destroy the One Ring in the land of Mordor. Superbly paced, the film is both epic and intimate, offering astonishing special effects and production design while emphasizing the emotional intensity of Frodo's adventure. Ending on a perfect note of heroic loyalty and rich anticipation, this wondrous fantasy continues in The Two Towers (2002). –Jeff Shannon
The Lord of the Rings: The Two Towers is a seamless continuation of Peter Jackson's epic fantasy based on the works of J.R.R. Tolkien. After the breaking of the Fellowship, Frodo (Elijah Wood) and Sam (Sean Astin) journey to Mordor to destroy the One Ring of Power with the creature Gollum as their guide. Meanwhile, Aragorn (Viggo Mortensen), Legolas (Orlando Bloom), and Gimli (John Rhys-Davies) join in the defense of the people of Rohan, who are the first target in the eradication of the race of Men by the renegade wizard Saruman (Christopher Lee) and the dark lord Sauron. Fantastic creatures, astounding visual effects, and a climactic battle at the fortress of Helm's Deep make The Two Towers a worthy successor to The Fellowship of the Ring, grander in scale but retaining the story's emotional intimacy. These two films are perhaps the greatest fantasy films ever made, but they're merely a prelude to the cataclysmic events of The Return of the King. –David Horiuchi
Lord of the Rings: The Return of the King: With The Return of the King, the greatest fantasy epic in film history draws to a grand and glorious conclusion. Director Peter Jackson's awe-inspiring adaptation of the Tolkien classic The Lord of the Rings could never fully satisfy those who remain exclusively loyal to Tolkien's expansive literature, but as a showcase for physical and technical craftsmanship it is unsurpassed in pure scale and ambition, setting milestone after cinematic milestone as the brave yet charmingly innocent Hobbit Frodo (Elijah Wood) continues his mission to Mordor, where he is destined to destroy the soul-corrupting One Ring of Power in the molten lava of Mount Doom. While the heir to the kingdom of Men, Aragorn (Viggo Mortensen), endures the massive battle at Minas Tirith with the allegiance of the elf Legolas (Orlando Bloom), dwarf Gimli (John Rhys-Davies) and the great wizard Gandalf (Ian McKellen), Frodo and stalwart companion Samwise Gamgee (Sean Astin) must survive the schizoid deceptions of Gollum, who remains utterly convincing as a hybrid of performance (by Andy Serkis) and subtly nuanced computer animation.
George Lucas credits the work of Joseph Campbell in The Hero With a Thousand Faces with inspiring the writing of this film series.
The Star Wars Trilogy had the rare distinction of becoming a cultural phenomenon, a defining event for its generation. On its surface, George Lucas's story is a rollicking and humorous space fantasy that owes debts to more influences than one can count on two hands, but filmgoers became entranced by its basic struggle of good vs. evil "a long time ago, in a galaxy far, far away," its dazzling special effects, and a mythology of Jedi knights, the Force, and droids. Over the course of three films–A New Hope (1977), The Empire Strikes Back (1980), and Return of the Jedi (1983)–Luke Skywalker (Mark Hamill), Princess Leia (Carrie Fisher), and the roguish Han Solo (Harrison Ford) join the Rebel alliance in a galactic war against the Empire, the menacing Darth Vader (David Prowse, voiced by James Earl Jones), and eventually the all-powerful Emperor (Ian McDiarmid). Empire is generally considered the best of the films and Jedi the most uneven, but all three are vastly superior to the more technologically impressive prequels that followed.
In the early 20th century while studying world mythology, Joseph Campbell discovered a pattern hidden in every story ever told. He called it "the hero's journey." Finding Joe explores how the hero's journey is relevant and essential in today's world. It provides a narrative for how to live a fully realized life or, as Campbell would simply state, how to "follow your bliss." The film takes us on an inspirational quest of self-discovery. As you slay dragons and uncover treasures, you just may find that the holy grail you seek is closer than you think.